STADT NACH ACHT – OPENING PARTY
DIPLOMACY RAVE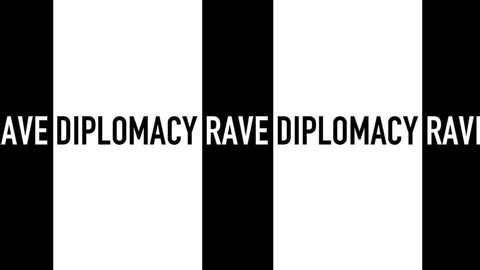 Donnerstag / Thursday, 9. November
23:00 – 7:00
Ritter Butzke
Ritterstrasse 26, 10969 Berlin
Opening event of Nights – Stadt Nach Acht 2017 and Co-Hosted by Enter the Void – Appropriating Urban Spaces To Underground Youth Culture!
There will be several panels regarding the Rave Diplomacy issues at Nights – Stadt Nach Acht 2017, here you hear the DJ's play! Throughout most of the world, music doesn't only mobilize the youth, but is one of the most important catalysts for cultural development. For that reason we have invited influential underground music collectives from all over the world, to cooperate with one another not only during the panels but also behind the decks. The aim is to open dialogue and to support the networking of all those who operate in music, arts and self-organization – including those operating under totalitarian regimes.
Ölfasslager Floor ("Oil Barrel Camp"):
23 – 01 : MYI (BASSIANI Records) – Tbilisi, Georgia
01 – 03 : Cashu (MAMBA NEGRA) – Sao Paulo, Brasil
03 – 05 : Stevie Whisper (Drugstore Beograd, Yes) – Belgrade,
Serbiea (https://soundcloud.com/steviewhisper)
05 – 07 : (Jazar Krew) – Haifa, Palestine
(https://soundcloud.com/jzrc)
Hütte: (HUT) Middle East – North Africa Floor
23 – 01 : Makimakkuk – Ramallah, Palestine
01 – 03 : Al Nather – Ramallah, Palestine
Facebook Link: https://www.facebook.com/alnathermusic/
03 – 05 : Shusmo– Amman, Jordan
05 – 07 : Hamdi RydEr – Tunis, Tunesia
Our program will be supported by the traditional Karma-event, which will be hosted at Ritter Butzke's newly designed backyard floor ("Hinterhof"). Karma complements our techno line-up with some juicy house beats:
Superlover (Kittball) // SIOPIS (Get Physical) // Joshua Jesse & Marvin Jam (Dantze, Time Has Changed) // AUTOBVHN (Karma)
+ extra chill floor!
What a match!
STADT NACH ACHT EMPOWERMENT PARTY
FEMALE FUTURE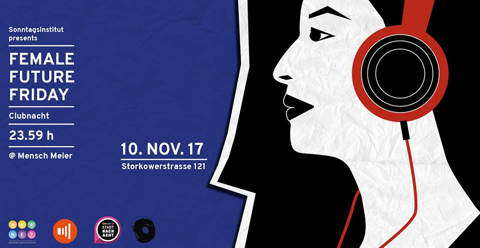 Freitag / Friday 10. November
23:55 bis 10:00
Mensch Meier
Storkower Straße 121, 10407 Berlin
Sonntagsinstitut Collective proudly presents: An all-night feminist rave at Mensch Meier with good tunes and even better drinks. Before we start the party, the "Female Future" Side Event of the Berlin City Nightlife Conference "Stadt nach Acht" will take place from 8 PM onwards. Expect an evening full of workshops, discussions, input and electronic music on full blast. All genders are welcome! ♥
Das Sonntagsinstitut bringt die Geschlechterverhältnisse zum Tanzen und präsentiert einen feministischen Freitag mit jeder Menge Sekt auf Eis. Vorher gibt es ab 20.00 Uhr das Female Future | Side-Event der Stadt Nach Acht Konferenz mit Input, Workshops und Diskussionen.
ALPHABETICAL ARTISTS*
*Dana Ruh
(Cocoon // Berlin // www.soundcloud.com/danaruh)
*Ena Lind
(Mint Berlin // www.soundcloud.com/enalind)
*Natascha Kann
(://about party // Berlin // www.soundcloud.com/nataschakann)
*Of Monsters and Trash
(Sonntagsinstitut // www.soundcloud.com/sonntagsinstitut)
*Playlove
(Les Belles De Nuit // Zürich // www.soundcloud.com/playlove)
*Ria
(HRO // www.soundcloud.com/ria-rama)
*Tonia
(SOA Recordings // Berlin // www.soundcloud.com/toniaisnicht)
The future is still unwritten, let's make it a feminist story!
STADT NACH ACHT AFTER PARTY
PRETTY / UGLY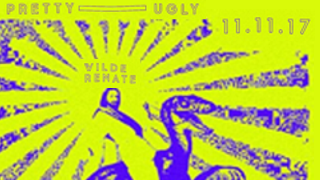 Samstag / Saturday 11. November
23:55 bis 10:00
Salon Wilde Renate
Storkower Straße 121, 10407 Berlin
Interstellar Funk spielt eine unter "Balearic Electro-Funk" zusammenfassbare Auswahl zwischen Disco und House und konnte speziell mit Tracks wie zuletzt "Prototype" auf dem renommierten Niederländischen Rush Hour-Label diesen Sound auch in seinen Produktionen widerspiegeln. Dass er dabei aus der Masse an Wave- und Disco-Jüngern merklich heraussticht, zeigte nicht zuletzt sein Boiler Room mit Intergalactic Gary. Ihm zuvor eröffnet Hugo Capablanca, der ebenfalls in der Vergangenheit ein Händchen für experimentelle und kosmische Melodien bewies und dessen EP "Lap Top Less Dance" dieses Jahr erst als Re-Press erschien. Lee Douglas trat in letzter Zeit hauptsächlich durch sein eher Techno- und EBM-orientiertes Alter Ego An-i in Erscheinung, spielt aber diesmal unter seinem discoideren Alias. Dennoch ist er dabei im Schwarzen Raum zu finden, wo er von Buttons-Resident Jacob Meehan und dem dorthin schon mehrfach geladenen Samuel Gieben unterstützt wird. Für weitere Disco-House-Kompetenzen sorgen im Roten Raum zudem Eric Duncan und DJ Kaos.
♡ ◕‿◕ ♡ ◕‿◕ ♡ ◕‿◕ ♡ ◕‿◕ ♡ ◕‿◕ ♡ ◕‿◕ ♡ ◕‿◕ ♡
Interstellar Funk /// rush hour, voyage direct, amsterdam
www.soundcloud.com/interstellarfunk
Eric 'Dunks' Duncan DJ /// dr dunks, rub n tug, nyc
https://soundcloud.com/drdunks

Dj Kaos Jolly Jams Offical /// jolly jams, grunewald
https://soundcloud.com/djkaosofficial
Lee Douglas /// esp institute, the stallions, tbd, nyc
https://soundcloud.com/an-iofficial
Job Sifre /// antikunst, amsterdam
https://soundcloud.com/jobsifre
Al Kassian /// planet sundae, love on the rocks, kyoto
https://soundcloud.com/alkassian
Jacob Meehan /// buttons, san francisco
https://soundcloud.com/jacob-meehan
Pepsi Colada /// UNITED SQUIRT HOLES
Samuel Gieben /// love on the rocks, hell
https://soundcloud.com/samuelgieben